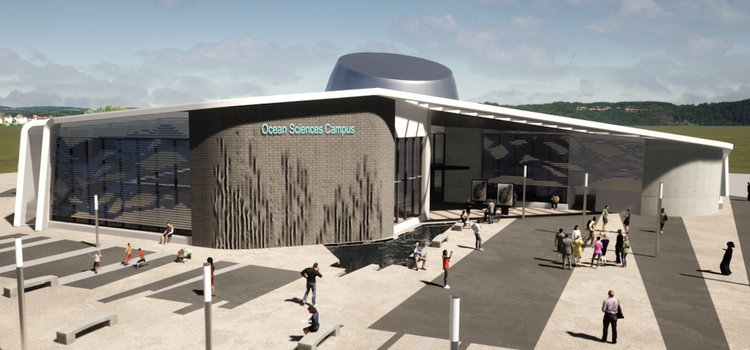 Science Centre Proposal Places in Top Three Designs
In December 2020, Balshaw & Fogarty Architects submitted a proposal and were placed in the top three design entries for the New Science Centre at NMU's Ocean Sciences campus.
The building, centred on the iconic dome theatre, stands as an architectural podium with a folded concrete roof slab encapsulating the complex programme into a unified architectural form.
Located on the existing campus along University Way, the context demands tight integration into the surrounding functions. We therefore defined clear axes of circulation between the Ocean Sciences campus, adjacent Engineering complex, newly constructed conference centre to the north, and student residences to the south.
Our design is inspired by the immediate coastal marine context. Drawing from natural ocean forms, we explored a number of innovative design elements using parametric design and physics simulation software.
Parametrically designed louvres and brickwork facades were coded in Python and modelled in Blender, with ceiling panels and bulkhead structures generated using physics simulation software.

Images from this design submission can be viewed in our Portfolio section