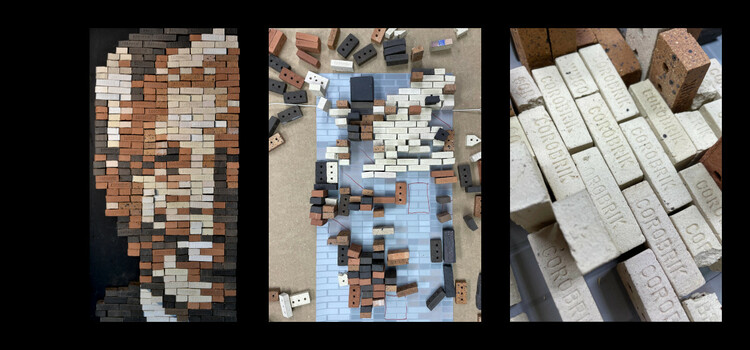 Building an Iconic Brickwork Image
Clay brick wall construction is the accepted standard in local building practice. Clay facebricks provide an iconic aesthetic for buildings and structures. As we constantly look for new ways to push creative limits in appropriate economic building design, we have explored a variety of low-cost creative interventions in brickwork construction.
One approach is to exploit the tonal variety of the wide range of available facebricks, to generate a pixellated iconic image in a facebrick wall.
We coded software in Python to convert a given image into patterned brickwork.
The software firstly establishes a preset pallet of brick colours that correspond with the specific selection of facebricks available in the market.
We input the final size of the wall and desired brick bond pattern - straight and standard patterns are supported.
The reference image is given as input and bricks are mapped in the selected brick bond pattern corresponding with the colours of the input image.
Mapping is completed for each brick course and a final brickwork image is generated along with a course-by-course pattern guide which can serve as a tool for a building contractor to build the wall.
In celebration of Mandela Day, we input an iconic picture of Nelson Mandela to generate a facebrick wall bearing his image.
We were able to create a scale sample of the resulting patterned wall thanks to a marketing drive by Corobrik, where they manufactured and delivered a handful of mini bricks representing scale versions of a selection of their available facebricks. The mini bricks were an excellent opportunity for a small scale test of the patterned facebrick wall, providing an accurate scale model of how the completed wall would appear.
This playful exercise showcases our team's creativity. Through this process we have generated another useful design tool which can be implemented at any scale in our projects as a low-cost, unique, creative design solution.
Images and a video of the process and outcome of this exercise are showcased on our social media platforms:
https://www.facebook.com/Balshaw-Fogarty-Commercial-Architects-103130314960023/
https://www.instagram.com/balshawfogartyarchitects/
https://www.linkedin.com/company/balshaw-and-fogarty-architects/